MidFirst/Midland Partners in Fraud: Hopkins Tchetter Sulzer, P.C.



On August 1, 2001, Victor L. Sulzer, a partner of the law firm Hopkins Tschetter Sulzer, filed a fraudulent lis pendens (Notice of Commencement of Action) with the Arapahoe County Clerk & Recorder's Office against my property, as part of their cooperation with MidFirst/Midland's unlawful activities to prevent me from selling my house myself.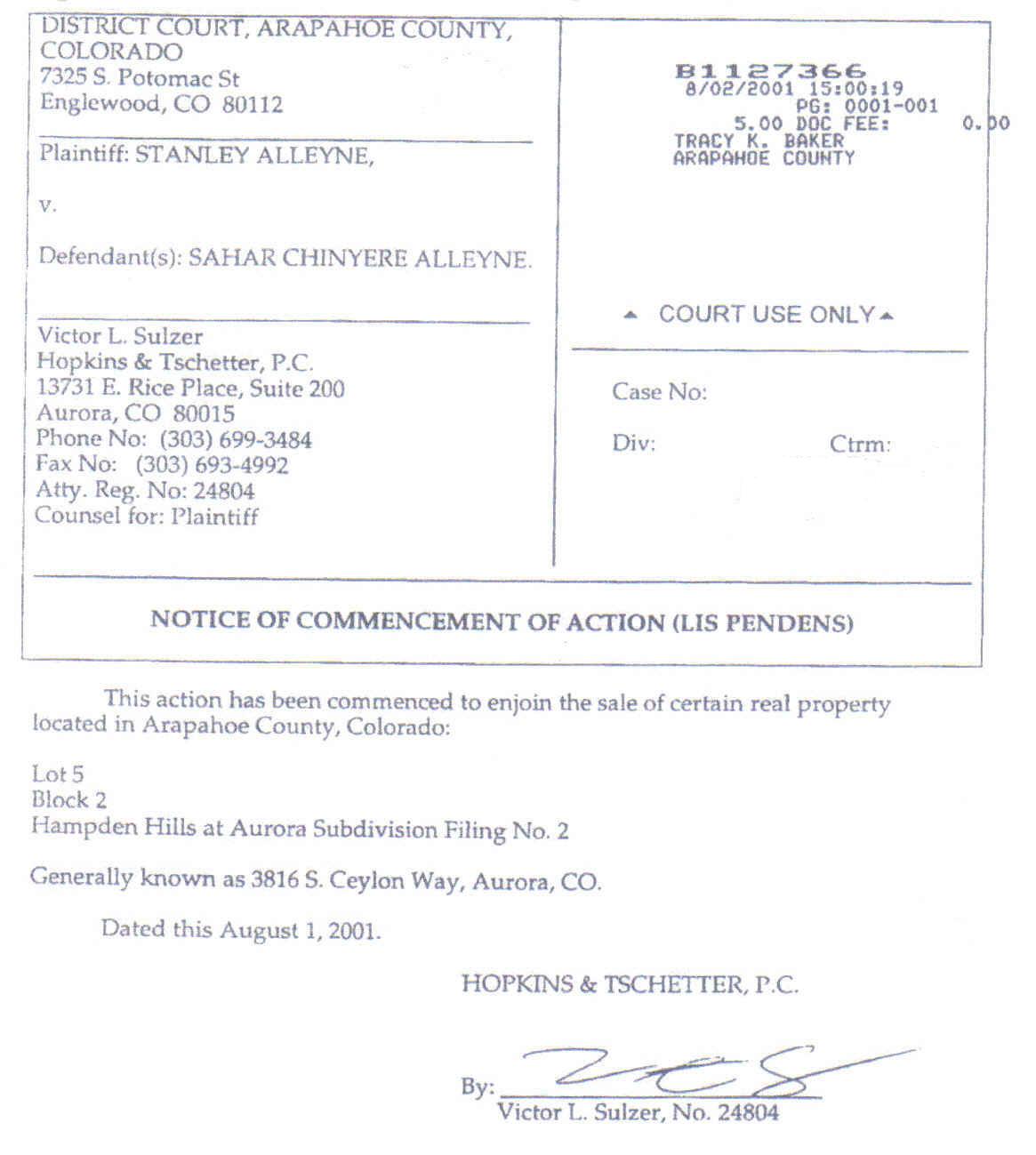 The filing is completely fraudulent as to this day, 10/10/04, there has been no court-action commenced to enjoin the sale of my property. This has been verified by a full Court search which can be performed by any member of the public. (I have been advised that some court and police documents may not be allowed to be published. Otherwise I would post my copy here.)

Hopkins Tschetter Sulzer handles most of this jurisdiction's aggressive evictions while Castle Meinhold & Stawiarski, MidFirst/Midland's lead law firm against homeowners in Colorado, handles most of this jurisdiction's aggressive foreclosures.

Hopkins Tschetter Sulzer allegedly represents my father, Stanley Alfred Alleyne. On August 5, 2004, Mark N. Tschetter, another Hopkins Tchetter Sulzer partner, emailed me:

"Dear Ms. Chinyere:

We represent your father. We are writing to you because 1) your attorney has advised us that he no longer represents you (if you are represented by counsel, please provide us with contact information); and 2) efforts to contact you be phone were not successful. I did leave a message with you this morning a short time ago.

As you are aware, the property is in foreclosure. If nothing is done before August 12, 2004, the property will be lost. Accordingly, this matter is very urgent, and we would request your immediate response.

Your father has authorized us to make the following offer to you to resolve the outstanding dispute. If you reconvey the property to him, he will sell the property, and give you 1/2 or 50% of the net proceeds. According to our rough calculations, this would be approximately $50,000.00 more or less.

Your differences with your father aside, we do not see or understand how you can just kiss $50,000.00 goodbye. This is exactly what will happen if this matter is not resolved now. If the property goes to sale, everybody loses including you. Accordingly, we would urge you to sincerely consider this offer.

We await your prompt response.

Mark Tschetter
--
PLEASE NOTE MY NEW EMAIL ADDRESS AND THE NEW ADDRESS FOR THE FIRM
--

Mark N. Tschetter
Hopkins Tschetter Sulzer, P.C.
Pavilion Tower Two
2821 S. Parker Road, Suite 228
Aurora, CO 80014
Tel: 303.699.3484
Fax: 720.449.0160
marktschetter@htspc.com"