MidFirst/Midland Partners in Fraud: Castle Meinhold & Stawiarski, LLC



Why not simply sell or refinance to remove MidFirst Bank/Midland Mortgage Company from its connection to my property? I have not been allowed any opportunity to do so because both refinancing and selling require a payoff-amount - To this day, 10/10/04, MidFirst/Midland has refused to provide one to me, the sole homeowner of Arapahoe County record since 2/25/00.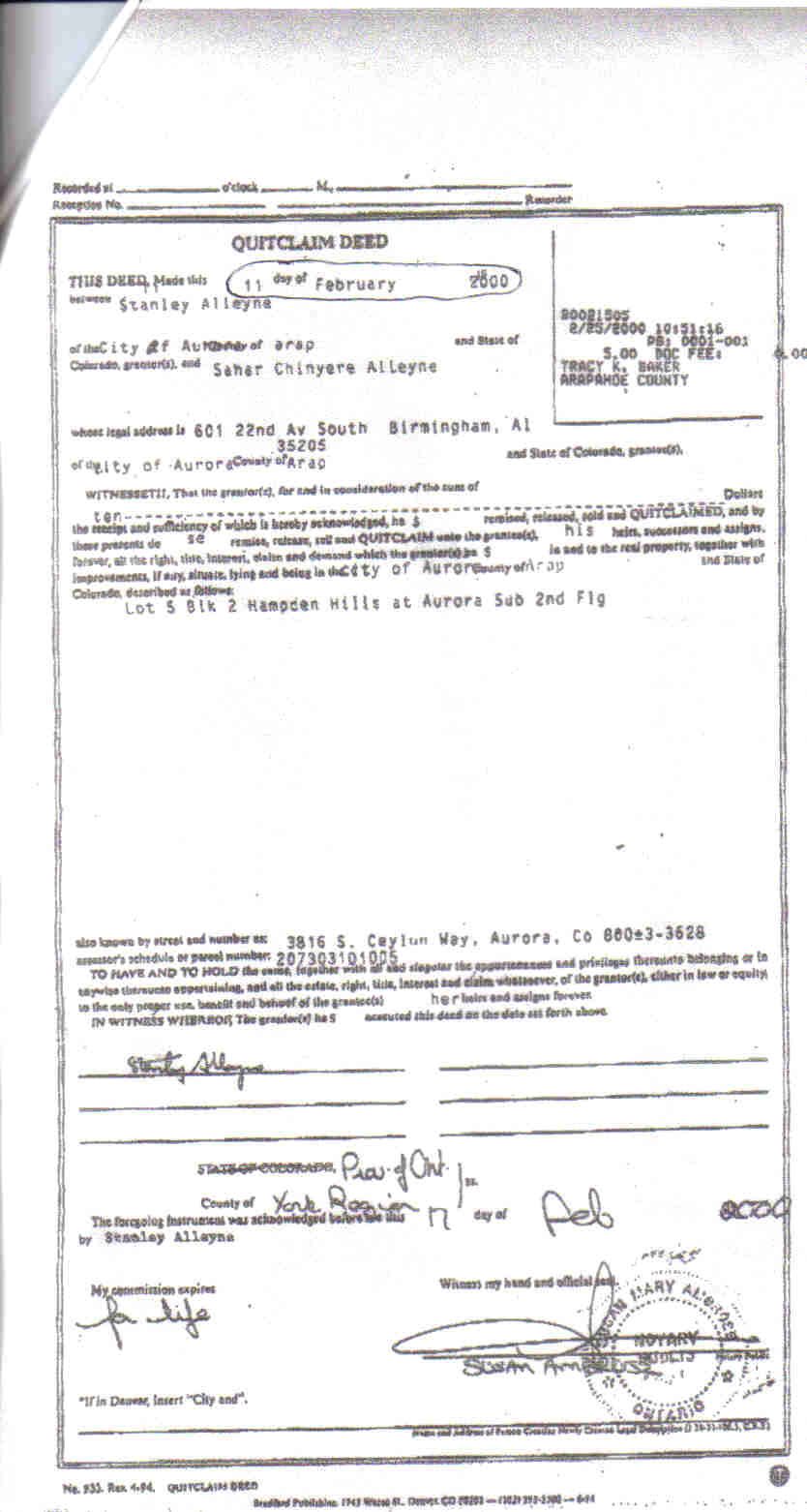 According to HUD representatives, MidFirst/Midland DOES have the responsibility to keep track of county filings that transfer title. Regardless, in this case they were directly informed of the transfer of ownership from my father, Stanley Alleyne, to me. The primary purpose of providing them this information forthwith was to obtain an application to formally assume the rights & responsibilities of the mortgage. To this day they have never provided an application.

First, Castle Meinhold & Stawiarski lied on behalf of their client, MidFirst/Midland, by claiming that I never requested an application. However the Internal Memorandum they submitted to the Court (Arapahoe County District Court in Centennial, Colorado) proves otherwise. Then, Castle Meinhold & Stawiarski lied that they did not have written authorization to release information from the pre-existing mortgagor (further insinuating that such was necessary).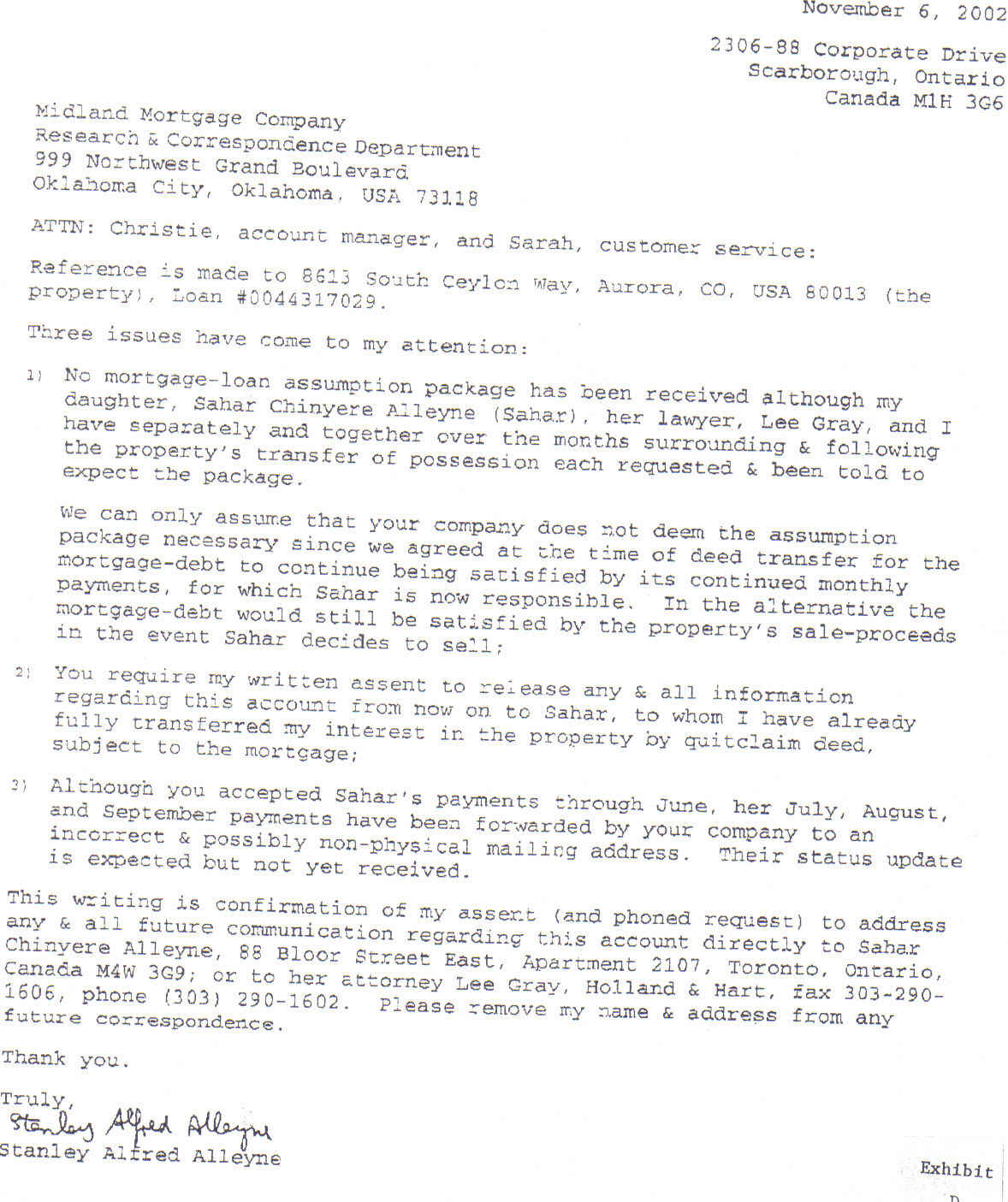 The MidFirst/Midland party also fraudulently reported me to HUD as "renter"/"tenant" to facilitate Hopkins Tschetter Sulzer's unlawful, groundless efforts to evict me from my own home - under their pretense that Stanley Alleyne retained landlord status after he QUITCLAIMED all his interests in the property to me, and correspondingly abandoned all his pre-existing responsibilities to the property.

Overall, Castle, Meinhold & Stawiarski named me Mortgagor throughout these five years whenever they wanted more of my money while they alleged that I have no right to any information about the mortgage 'BECAUSE [I] am NOT the Mortgagor' - sometimes deeming me Mortgagor and then NOT Mortgagor within a 24-hour period!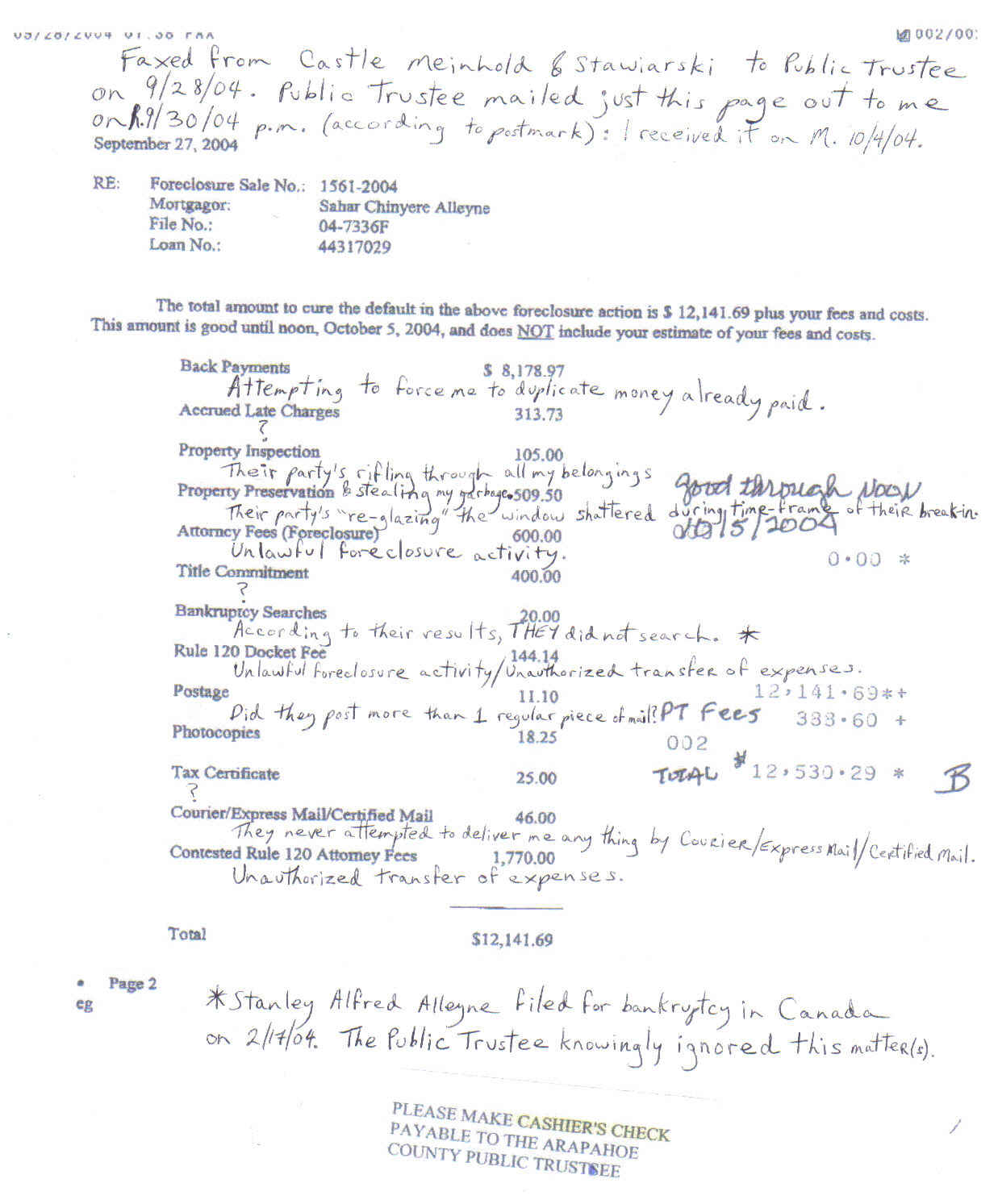 The letter directly below is a strong example of Castle Meinhold & Stawiarski's lack of ethics. They begin their slippery slope with "the Order Authorizing Sale" leaving out that the court-record reflects at least THREE Orders Authorizing Sale. The only one to which they refer is the oldest of the three. They also leave out the great lengths undertaken to have prevented my learning of the Order to which they refer, and the lengths taken to make that Order appear legitimate despite its environment of both extreme back-dates and false dates. (See MidFirst/Midland Mystery Documents.)

The letter proceeds to shrug off Castle Meinhold & Stawiarski's responsibility, assumed by their representative Deanne Stodden in Court on 8/24/04, for determining the legal effect of Stanley Alleyne's 2/17/04 bankruptcy filing. Then the letter (third paragraph) deteriorates to the most audacious, deliberate misreading & attempt to confuse that I have ever witnessed written by anyone, especially a lawyer. (See Shepardized quote for the full, long-standing, & current text as of October 12, 2004 of C.R.S. 38-38-108.)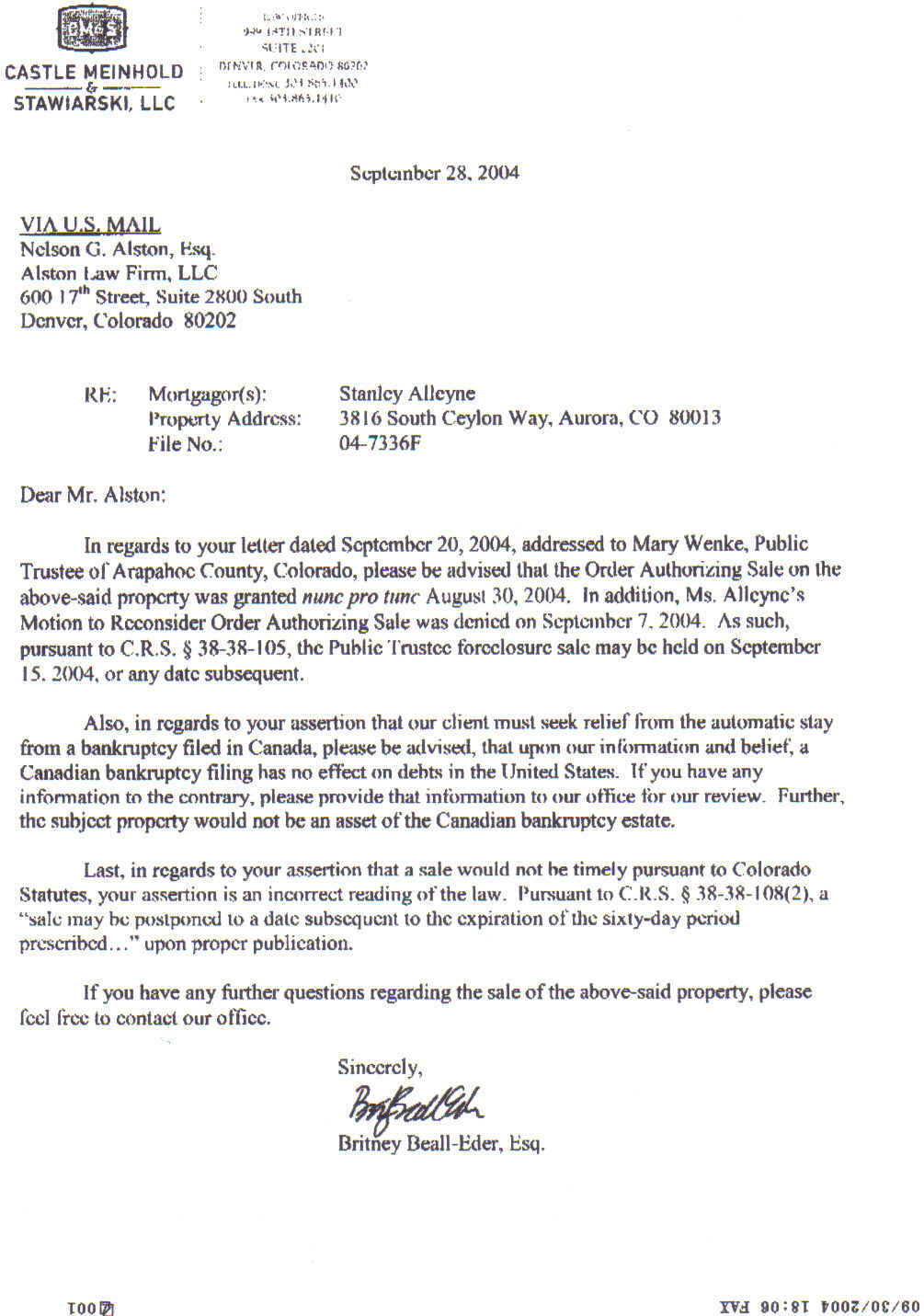 In addition to refusing to provide me, the sole payor of the mortgage since February 2000, a payoff amount - They have also refused to provide me (despite repeated requests) basic information such as a monthly due date and any proof of default/delinquency of debt that they would suddenly allege plus the name of the original creditor. Therefore they are still currently in blatant violation of the Federal Fair Debt Collections Practices Act (FDCPA, quoted in their own correspondence directly below) but, as even a Judge asked me, "Who is going to enforce it?"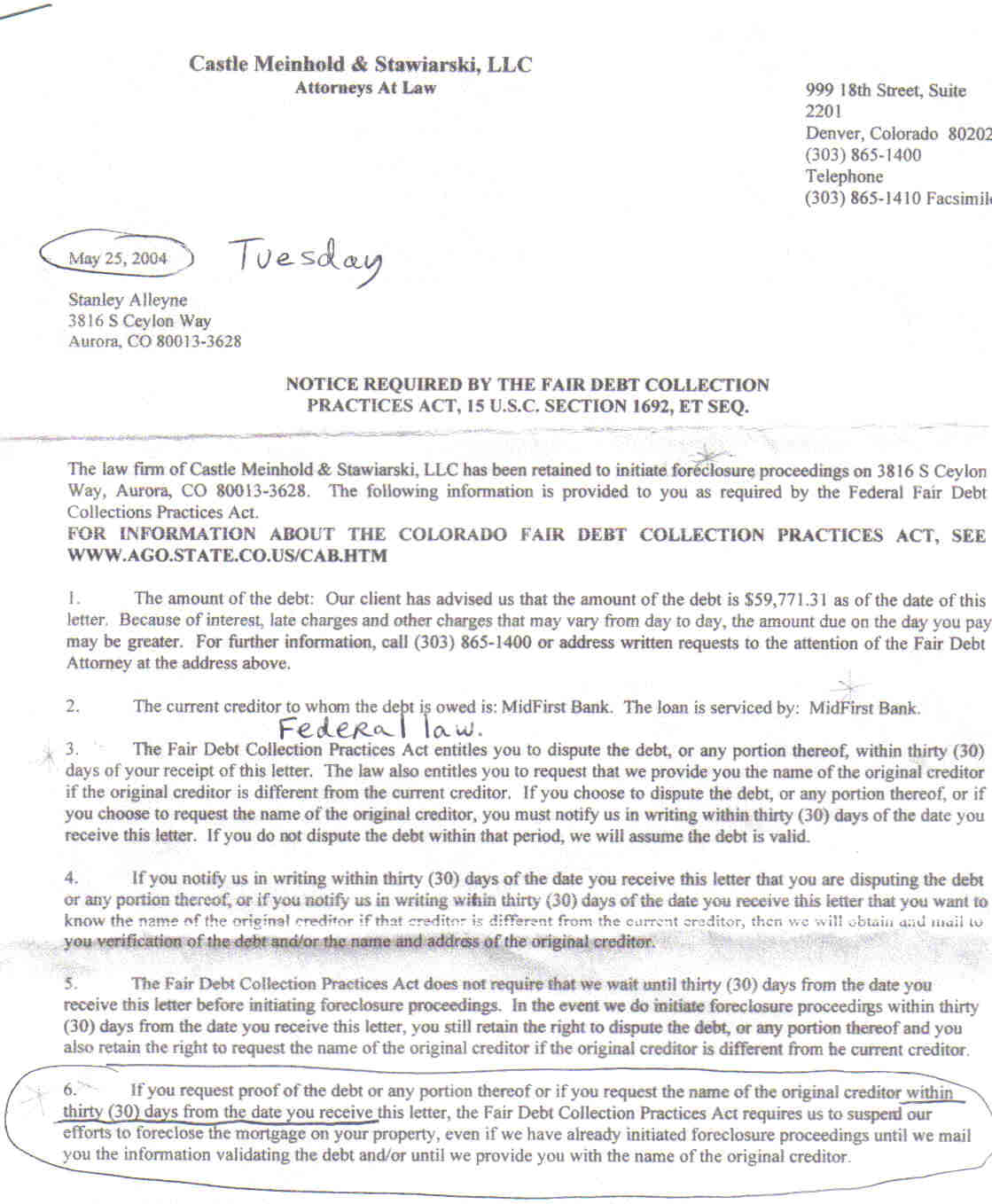 Castle Meinhold & Stawiarski failed to mail the above letter until the p.m. of Friday, May 28, 2004 - according to the postmark, ensuring that it would not arrive before a full week had elapsed from the letter's typed date. They are in the habit of creating such delays between the typed date of their correspondence and the earliest possible delivery. Even the Public Trustee's Office appears to cooperate with this unofficial protocol of creating the appearance of providing the homeowner time that is actually used to let documents age before they are ever sent.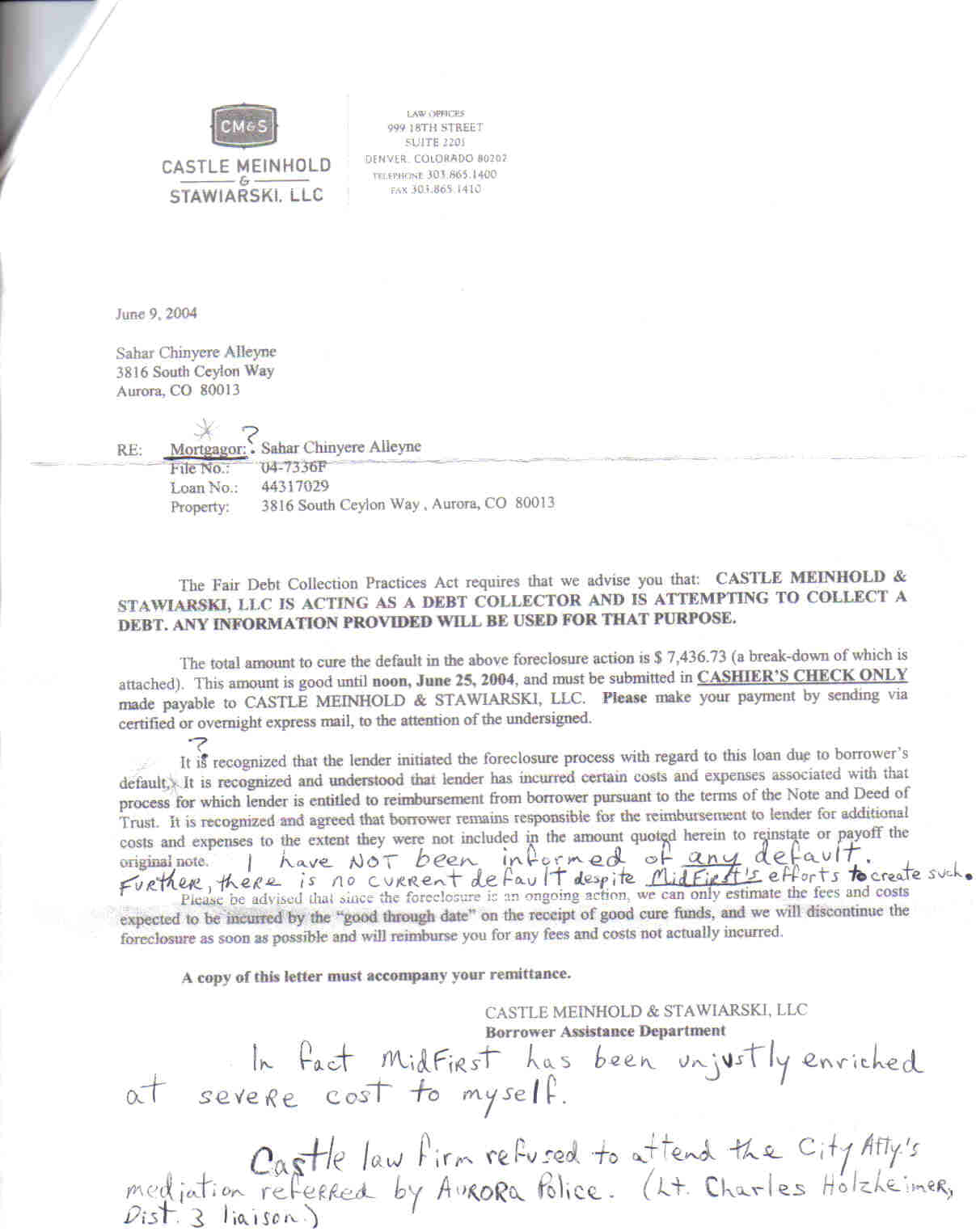 They were already playing the same Sometimes Mortgagor, Sometimes Not game in 2002...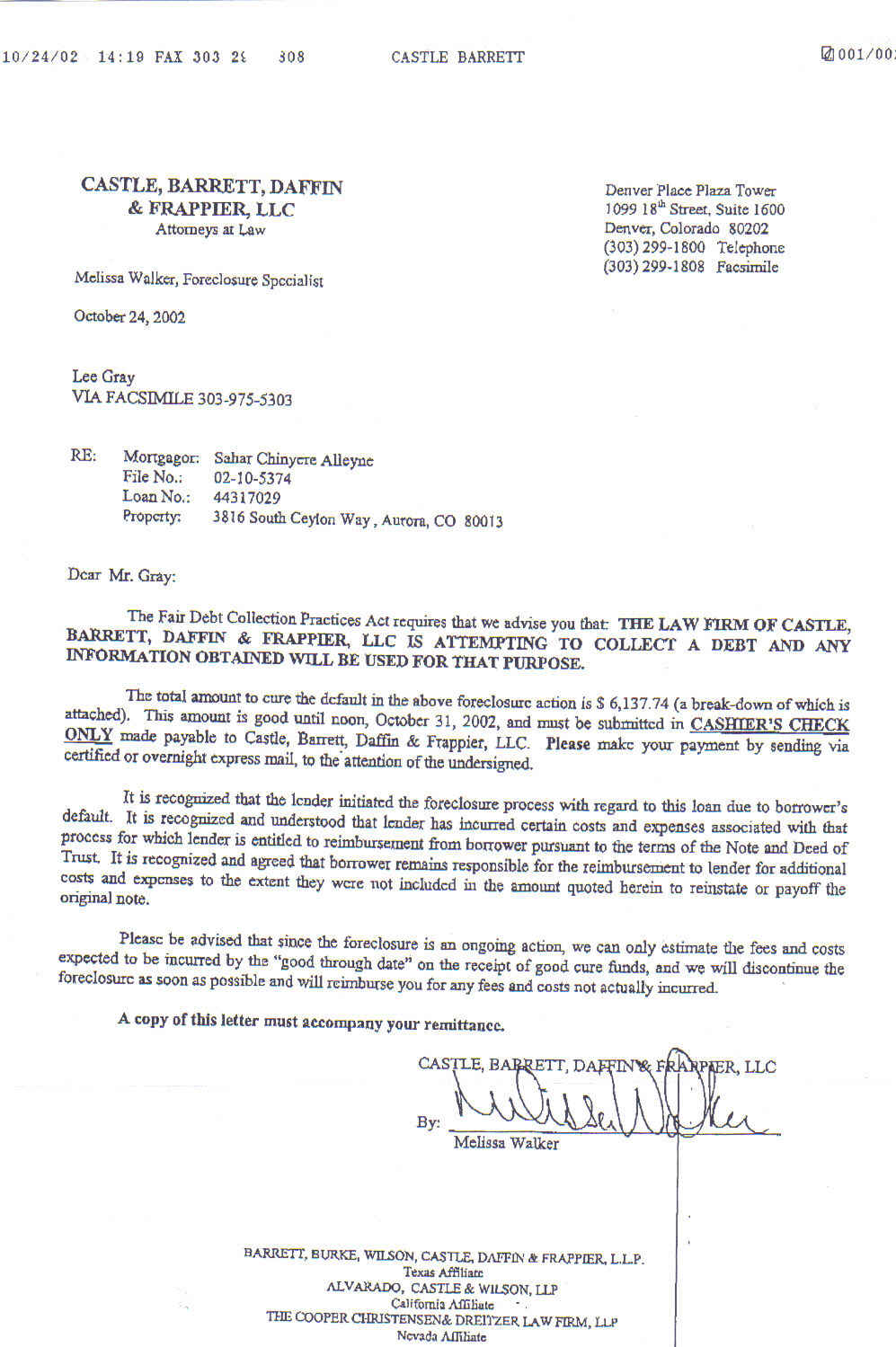 In May 2003, Castle Meinhold & Stawiarski produced a similar breakdown of alleged expenses including hundreds of dollars in 'Public Trustee expenses' however on 8/31/04, Deputy Public Trustee Billie Melton confirmed that the Public Trustee's Office "did not receive a penny".

Castle Meinhold & Stawiarski withdrew their previous foreclosure filing against my property on 5/19/04 - and formally began their current foreclosure activities on 5/20/04. There is a 12-month waiting period at law. Had I known they were hovering the whole time waiting to pounce on my property regardless of my having rendered more than every month's payment (thinking at the time that like a legitimate bank, MidFirst Bank/Midland Mortgage Company would credit my over-payments to the principal balance) then I could have saved more than a year's worth of mortgage payments!

NOTE: Lead Counsel Deanne Stodden of Castle Meinhold & Stawiarski in these 2004 home-equity appropriation activities was also Lead Counsel of Castle, Barrett, Daffin & Frappier in the 2002-2003 home-equity skimming activities.

SPECIAL THANKS: Due to resulting financial hardship plus the other obstacles created by MidFirst/Midland, it has been impossible to maintain an attorney to fight their entrenched fraud. However, some individuals have helped along the way to a substantial extent pro bono - demonstrating unique courage, conviction, and integrity: Nelson G. Alston, Esq. of Alston Law Firm, LLC; Steven L. Zimmerman, Esq. and Ronald M. Rubin, Esq. of Rubin & Zimmerman, P.C.; Parishioner's Advocate Catherine Hart and Parishioner's Advocate Betty Jane Ballantyne of Community of Christ.

Also I am grateful to the many others who have contributed their time & energy and demonstrated their supportiveness of homeowners' rights by for example calling in their concerns to government representatives. Further, I am grateful to generous friends (private citizens who might be harrassed by the bank's party if they were named, some of whom have mortgages held by MidFirst/Midland) as friends have helped in updating this site and more.

Finally, many government employees (who are also better off un-named at present) have risked being helpful & actually serving the public despite the leanings of their overall office. Colorado homeowners can no more afford for good government officials to be fired than for hard-earned homes to be stolen - and the spoils used to finance ongoing corruption.

Sincerely,
SC.